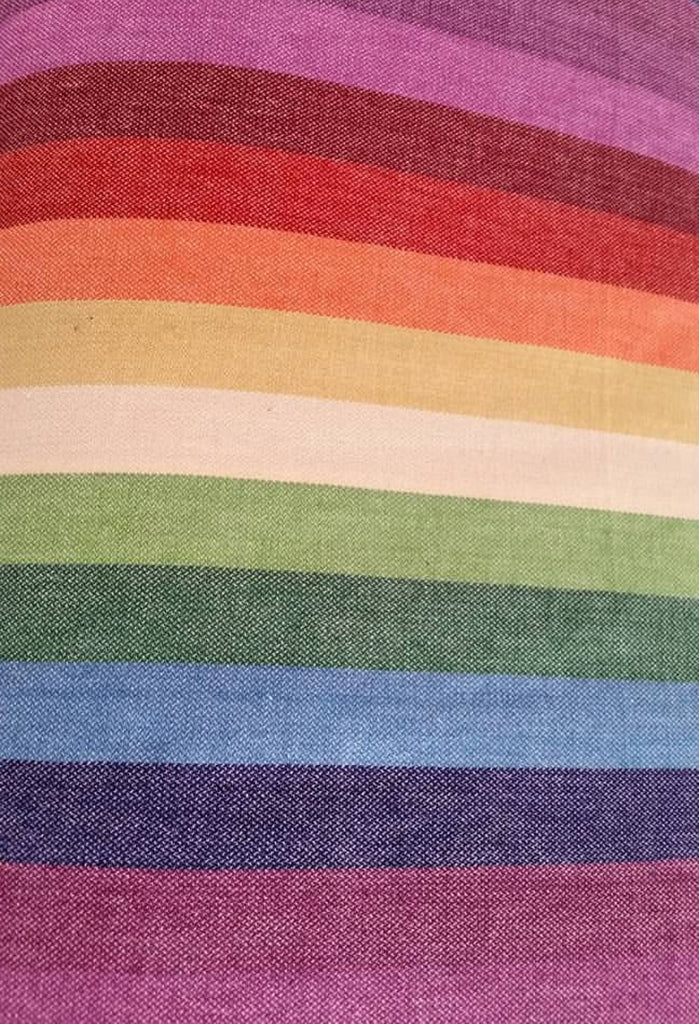 Auroray in Cream (Woven Wrap)
*Allow 3-5 days before item can be shipped out. Order is only valid if payment is made within 2 hours after order is placed.* 
Warp (Colorway): Auroray
Weft color: Cream
Material / Content: 100% cotton
Grammage / Weight: 215 gsm (g/m2) 
Weaving Technique: Machine Woven
Weave type: Broken Twill
Wrap Width: 29"
Wrap Length:
Size 3 (3.2m) - not available for Auroray
Size 4 (3.7m)
Size 5 (4.2m)
Size 6 (4.6m)
Size 7 (5.2m)
Size 8 (5.7m)
Auroray is a new woven wrap from the JumpSac Pandora Woven Wrap Series.
It comes in 2 weft color choices: Cream and Purple.
(This listing is only for Auroray in Cream weft.)
The Cream weft color gives a cool, soft-tone effect on the colorway.
Auroray has a lovely handle, strong, grippy, durable, easy to care for and comfortable.
It wraps true to its size.
Suitable from newborn till toddlerhood.
Auroray has better dye job and cotton yarns quality than the debut Pandora wrap, Night Berry.
The wrap is soft right out of the box, will get softer after the first wash, and will get even softer with frequent usage. We recommend that you wash it at least once (and then dry it under the shade) prior to usage  to release some of the starch within the yarns and to soften it up. Or if you prefer to wrap it in loom-state, it's still quite ok. Auroray is pretty easy to wear. Beginner as well as seasoned babywearer would love this.
Gorgeous color combo! A head-turner! We are positive that it'll bring a smile to your face every time you wear it, or just even looking at it :) Definitely suitable for occasions!