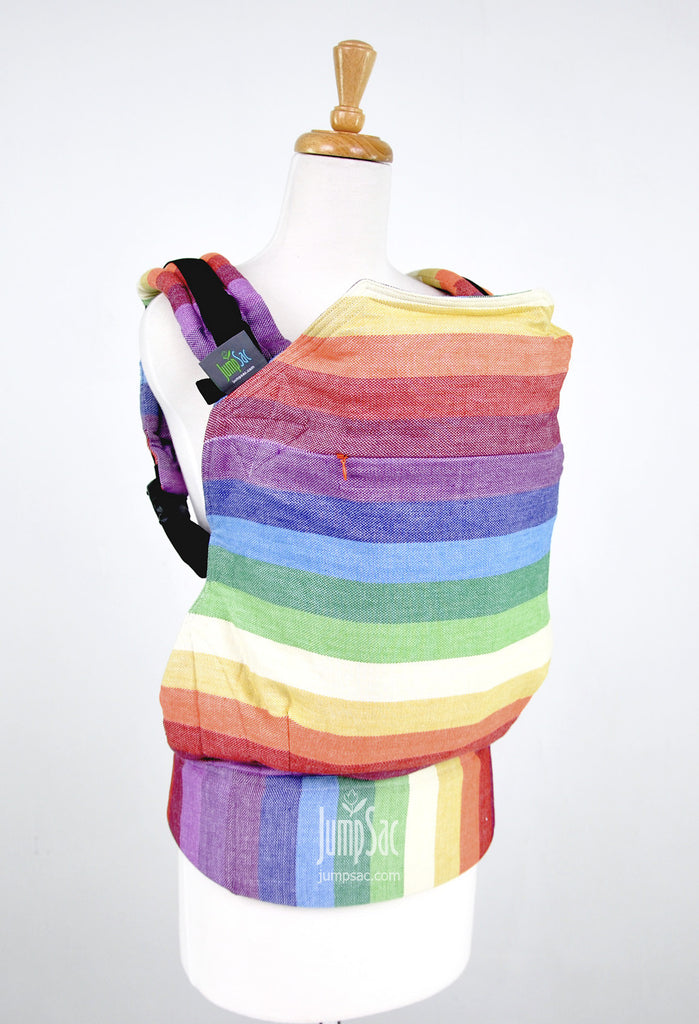 Auroray in Cream (Orbit)
*Allow 3-5 days before item can be shipped out. Order is only valid if payment is made within 2 hours after order is placed.*
Body Panel (Outer and Reverse Side): Auroray (Soft, Medium Weight, High Quality Woven 100% Cotton) 
Shoulder Straps and Hip/Waistband: Auroray (Soft, Medium Weight, High Quality Woven 100% Cotton)
Body Panel Padding: Lightly Padded
Shoulder Straps Padding: Cushy high density 1" soft foam
Hip/Waistband Padding: Moldable and sturdy hip/waist pad
Has Seat Darts?: Yes
Hood: Tuckable, Elasticized Hood *(cups a baby's head better than the usual flat hood)* 
Chest Strap: Included  
Buckles: 1.5" Dual Adjust buckles for the shoulder straps and 2" Dual Adjust buckles for the waistpad.
Carrying positions: Front, Back and Hip carry
Sizing:
- Baby (great from 3 months old till about 3.5 yrs old)
- Toddler (great from 1year old till about 4 yrs old)
Differences

Sizing

Baby

Toddler

Preschool

Age range / Fit

From 3 months old till about 3.5 yrs old

From 1 year old till about 4 yrs old

From 2.5 year old till about 4.5 yrs old

Body Panel Height till the top of headrest:

14 inch

18 inch

21 inch

Body Panel Height till the shoulder straps:

11 inch

15 inch

19 inch

Body Panel Width:

13 inch

18 inch

21 inch
Desc:
Auroray is a new woven wrap from the JumpSac Pandora Woven Wrap Series.
It has a lovely handle, strong, grippy, durable, easy to care for and comfortable and has just the right amount of cush and sturdiness, making it suitable to be converted to a JumpSac Orbit carrier. 
Auroray comes in 2 weft color choices: Purple and Cream.
(This listing is only for Auroray in Cream weft.)
The Cream weft color gives a cool, soft-tone effect on the colorway.
Auroray
has better dye job and cotton yarns quality than the debut Pandora wrap, Night Berry.
This version of
Auroray
Orbit is done such that the stripes are placed horizontally on the outer layer, and vertically on the reverse side (and vice versa for the waistband). It is also fitted with Perfect Fit Adjusters on the shoulder strap so that you could achieve maximum comfort should you require to cinch the shoulder strap further. A slider to hold the chest strap in place is also added to ensure that you'll no longer lose the chest strap, ever. A lot of improvement has been done to this particular Orbit :)
The carrier is soft right out of the box, will get softer with frequent usage.
Lovely color combo! Definitely suitable for occasions!
Depending on the size bought, JumpSac Orbit is a practical carrier for 3 months old till about 4.5 years old (or more if you have a lean toddler/preschooler).
JumpSac Orbit soft structured carrier is suitable for travelling and carrying heavy babies/toddlers for long hours. It is airport friendly too.
*Back carry is recommended for heavier babies (with head control) and tall toddlers and preschoolers, for the feel of weightlessness.