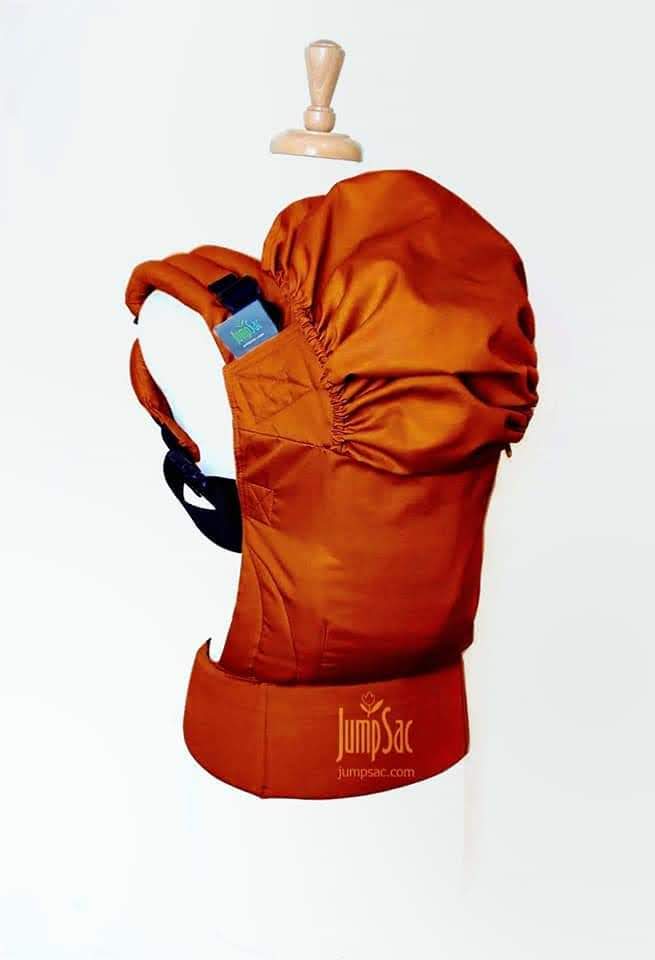 Terracotta (Orbit)
*NEW - complete with perfect fit adjusters on shoulder straps
*Allow 3-5 days before item can be shipped out. Order is only valid if payment is made within 2 hours after order is placed.*
Body Panel (Outer): Terracotta Lightweight Cotton Twill 
Body Panel (Reverse Side): Terracotta Lightweight Cotton Twill 
Shoulder Straps and Hip/Waistband: Terracotta Lightweight Cotton Twill 
Body Panel Padding: Lightly Padded 
Shoulder Straps Padding: Cushy high density 1" soft foam 
Hip/Waistband Padding: Moldable and sturdy hip/waist pad

Has Seat Darts?: Yes
Hood: Tuckable, Elasticized Hood
Chest Strap: Included

Safety Buckles: 1.5" Dual Adjust buckles for the shoulder straps and 2" Dual Adjust buckles for the waistpad.
Perfect Fit Adjusters: Included
Carrying positions: Front, Back and Hip carry
Body Panel Sizing:
- Baby (great from 3 months old till about 3.5 yrs old)
- Toddler (great from 1 year old till about 4 yrs old)
- Preschool (great from 2.5 year old till about 4.5 yrs old)
Differences

Sizing

Baby

Toddler

Preschool

Age range / Fit

From 3 months old till about 3.5 yrs old

From 1 year old till about 4 yrs old

From 2.5 year old till about 4.5 yrs old

Body Panel Height till the top of headrest:

14 inch

18 inch

21 inch

Body Panel Height till the shoulder straps:

11 inch

15 inch

19 inch

Body Panel Width:

13 inch

18 inch

21 inch

Desc:
"Terracotta" is this gorgeous combo of clay-orange-brown that is looking so foxy! And this twill fabric that we pick for the Holiday Orbit Series (formerly known as the Pastel Orbit Series) shimmers in almost any colors, including this one!
The fabric itself is lightweight and cooling, making the whole carrier lightweight and cooling! It is absolutely one of our airiest carriers (besides the Mesh Orbit). So, if you have a sweaty baby, or if your baby suffers from eczema, or can't stand the heat, then this (or any from the Holiday Orbit Series) is your best bet yet.

It is an absolutely gorgeous everyday carrier for you and your baby! Minimalistic, simple, but not simplistic. Suitable to be used on a short-notice holiday too, given that it is budget-friendly; so that you don't have to break your holiday-budget. Bonus point: Easy to match with your wardrobe too!

Did we mention that it is budget-friendly? :D 

Depending on the size bought, JumpSac Orbit is a practical carrier for 3 months old till about 4 years old (or more if you have a lean toddler).
In general, all JumpSac Orbit soft structured carrier is suitable for travelling and carrying heavy babies/toddlers for long hours. It is airport friendly too.
*Back carry is recommended for heavier babies (with head control) and tall toddlers, for the feel of weightlessness.