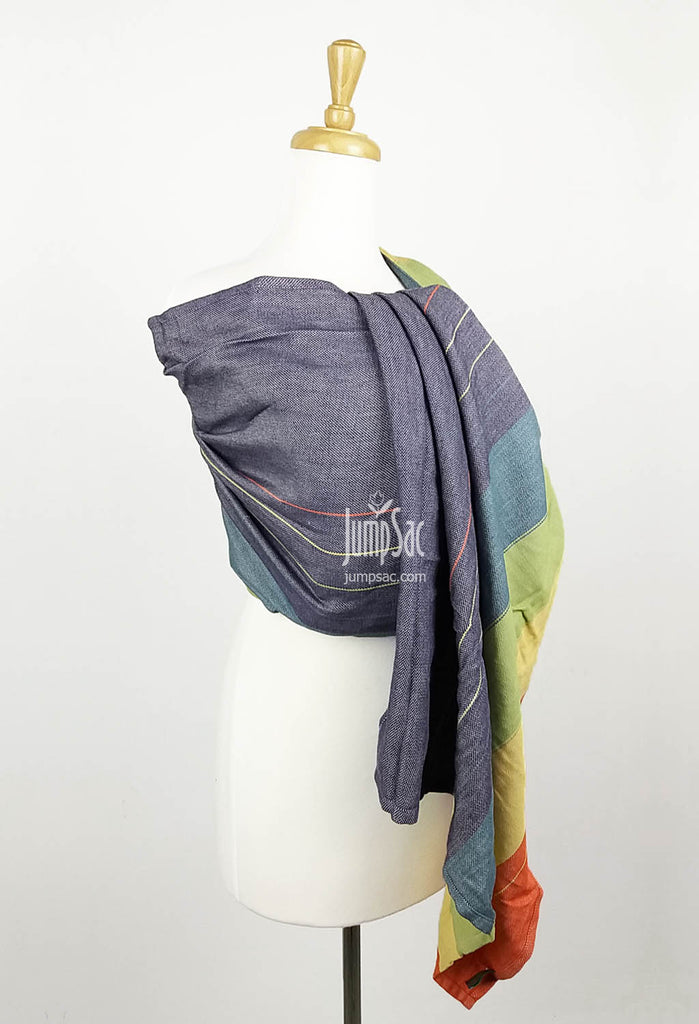 Reminisce in Grey Weft (Ring Sling)
RM149.00 MYR
RM205.00 MYR
Ring Color: Slate
Ring Size: Large.
Layering: Single Layer.
Base fabric: Reminisce (Soft, Medium Weight, High Quality Woven 100% Cotton)
Shoulder Style: Lightly Cushioned.
Pocket: None.
Sling Width: 29".
Sling Length: XS:66"/ S:70"/ M:74"/ L:78".
Desc:
Reminisce is the sixth release of the JumpSac Pandora Woven Wrap. 
We're now only left with 1 colors to choose from; the Light Grey weft. The Light Grey weft gives an overall muted effect on the colorway.
Reminisce has a lovely handle, strong, grippy, durable, easy to care for and comfortable and has just the right amount of cush and sturdiness, making it suitable to be converted to a JumpSac ring sling.
Reminisce has better dye job and cotton yarns quality than the debut Pandora wrap, Night Berry. Same quality as the November Rainbow.
This JumpSac Pandora ring sling is soft right out of the box, will get softer after the first wash, and will get even softer with frequent usage.
Reminisce has that rustic / vintage look to it. If you love vintage-y colors, then Reminisce is definitely for you! Suitable for occasions as well.
It is Practical. Suitable from newborn to toddlerhood. Max 15-16kg. *Great support!*
A sturdy, awesome everyday carrier!