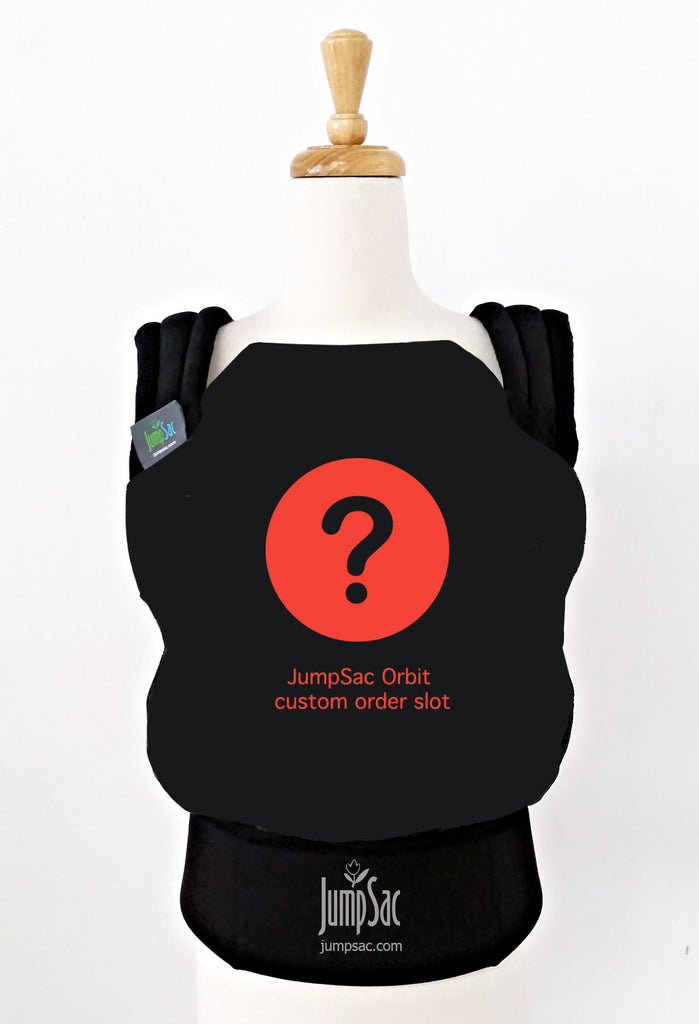 Orbit Wrap Conversion (Custom Slots)
*This is a pre-order. Allow 4-8 weeks from the day we receive your wrap fabric for your Orbit conversion to be made, before it can be shipped out. For genuine buyers only. Order is only valid if payment is made within 2 hours after order is placed. Thank you.*
Body Panel (Outer): Your wrap fabric
Body Panel (Reverse Side): Your wrap fabric OR our own matching plain fabric
Shoulder Straps and Hip/Waistband: Your wrap fabric OR our own matching plain fabric
Body Panel Padding: Lightly Padded
Shoulder Straps Padding: Cushy high density 1" soft foam
Hip/Waistband Padding: Moldable and sturdy hip/waist pad

Has Seat Darts?: Yes
Hood: Tuckable, Elasticized Hood OR Detachable Hood with Snap Buttons.
Chest Strap: Included
Buckles: 1.5" Dual Adjust buckles for the shoulder straps and 2" Dual Adjust buckles for the waistpad.
Carrying positions: Front, Back and Hip carry
Body Panel Sizing:
- Baby (great from 3 months old till about 3.5 yrs old)
- Toddler (great from 1 year old till about 4 yrs old)
- Preschool (great from 2.5 year old till about 4.5 yrs old)
Differences

Sizing

Baby

Toddler

Preschool

Age range / Fit

From 3 months old till about 3.5 yrs old

From 1 year old till about 4 yrs old

From 2.5 year old till about 4.5 yrs old

Body Panel Height till the top of headrest:

14 inch

18 inch

21 inch

Body Panel Height till the shoulder straps:

11 inch

15 inch

19 inch

Body Panel Width:

13 inch

18 inch

21 inch

Important Requirements:
For Full conversion, we require a Size 4 wrap (equivalent to 3.7m) to make sure that we have enough fabric to work with. Leftover fabric will be returned to you.
If the pattern is easy to work with, i.e similar pattern throughout the whole fabric, then we could work with slightly less than that, at about 3.2m.
For partial conversion, we'll add our own plain fabric to match with yours. At least 1.5m of your wrap fabric is required.
Price below is the starting price for an Orbit conversion job, and it will increase depending on the complexity of the job.
(Example: if you require embroidery on the body panel, if your fabric is too thin and that we'd need to reinforce your fabric, if you require custom sizing, if you need Perfect Fit Adjusters, if you need the webbings to be constructed out of the wrap fabric itself, if you need other style of sleep hood (example: hoodie hood, with spikes or "ears"), if we have to use our own fabric to make up for the shortness of your fabric (especially for partial conversion), etc etc. )
If there's no further additional work required, then the price is final. We'll communicate with you via email prior to cutting your fabric, as we'll need to inspect the received fabric first.
Because of the time spent is quite long on a single custom work, we're not able to refund your payment once it's made.
To confirm your slot, please make the payment within 2 hours after order is made.
Otherwise, the slot will be released back on to the website. Thank you for your cooperation.
More info:
Depending on the size ordered, JumpSac Orbit is a practical carrier for 3 months old till about 4 years old (or more if you have a lean toddler).
JumpSac Orbit soft structured carrier is suitable for travelling and carrying heavy babies/toddlers for long hours. It is airport friendly too.
*Back carry is recommended for heavier babies (with head control) and tall toddlers, for the feel of weightlessness.