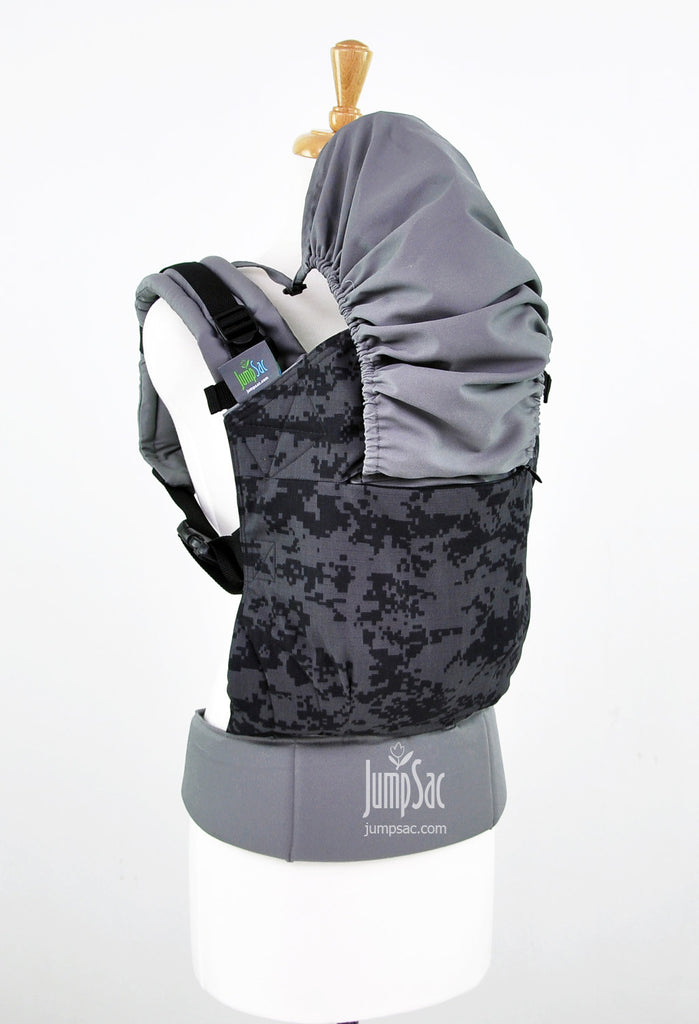 Digital Camo on Slate (Orbit)
*NEW - with perfect fit adjusters on shoulder straps & slider buckles for the chest strap*.

Allow 3-5 days before item can be shipped out. Order is only valid if payment is made within 2 hours after order is placed.*
Body Panel (Outer): Digital Camo (Soft, Light Weight, High Quality Cotton)
Body Panel (Reverse Side): Slate Cotton Twill
Shoulder Straps and Hip/Waistband: Slate Cotton Twill
Body Panel Padding: Lightly Padded
Shoulder Straps Padding: Cushy high density 1" soft foam
Hip/Waistband Padding: Moldable and sturdy hip/waist pad

Has Seat Darts?: Yes
Hood: Tuckable, Elasticized Hood
Chest Strap: Included
Slider Buckles & Railings: Included
(helps the chest strap glide smoothly on the shoulder straps, and preventing it from getting lost)
Safety Buckles: 1.5" Dual Adjust buckles for the shoulder straps and 2" Dual Adjust buckles for the waistpad.
Perfect Fit Adjusters: Included
Carrying positions: Front, Back and Hip carry
Body Panel Sizing:
- Baby (great from 3 months old till about 3.5 yrs old)
- Toddler (great from 1 year old till about 4 yrs old)
- Preschool (great from 2.5 years old till about 4.5 yrs old)
Differences

Sizing

Baby

Toddler

Preschool

Age range / Fit

From 3 months old till about 3.5 yrs old

From 1 year old till about 4 yrs old

From 2.5 years old till about 4.5 yrs old

Body Panel Height till the top of headrest:

14 inch

18 inch

21 inch

Body Panel Height till the shoulder straps:

11 inch

15 inch

19 inch

Body Panel Width:

13 inch

18 inch

21 inch

Desc:
The Digital Camo on Slate Straps is rugged looking, and the print would look great on daddies especially. If you love camo patterns, with a little bit on an edge to it, then this is for you.
Depending on the size bought, JumpSac Orbit is a practical carrier for 3 months old till about 4 years old (or more if you have a lean toddler).
JumpSac Orbit soft structured carrier is suitable for travelling and carrying heavy babies/toddlers for long hours. It is airport friendly too.
*Back carry is recommended for heavier babies (with head control) and tall toddlers, for the feel of weightlessness.