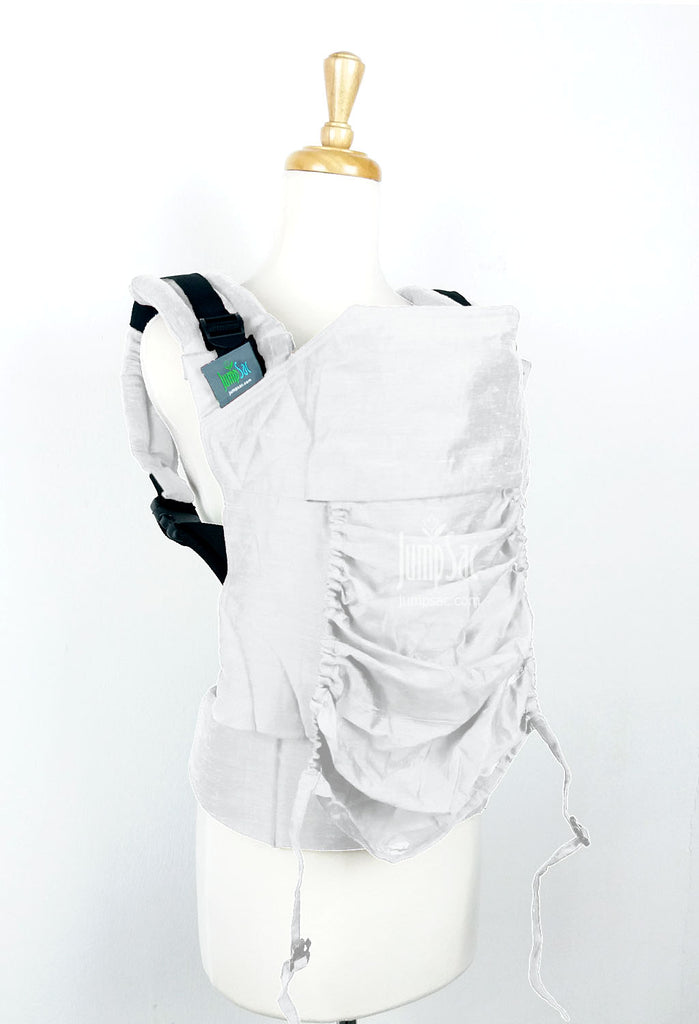 Chantilly White Raw Silk (Orbit)
RM329.00 MYR
RM379.00 MYR
*NEW - with perfect fit adjusters on shoulder straps & slider buckles for the chest strap*.
*Allow 3-5 days before item can be shipped out. Order is only valid if payment is made within 2 hours after order is placed.*
Body Panel (Outer and Reverse Side): Chantilly White Raw Silk
Shoulder Straps and Hip/Waistband: Chantilly White Raw Silk
Body Panel Padding: Lightly Padded 
Shoulder Straps Padding: Cushy high density 1" soft foam 
Hip/Waistband Padding: Moldable and sturdy hip/waist pad

Has Seat Darts?: Yes
Hood: Tuckable, Elasticized Hood
Chest Strap: Included
Slider Buckles & Railings: Included
(helps the chest strap glide smoothly on the shoulder straps, and preventing it from getting lost)
Safety Buckles: 1.5" Dual Adjust buckles for the shoulder straps and 2" Dual Adjust buckles for the waistpad.
Perfect Fit Adjusters: Included
Carrying positions: Front, Back and Hip carry
Body Panel Sizing:
- Baby (great from 3 months old till about 3.5 yrs old)
- Toddler (great from 1 year old till about 4 yrs old)
- Preschool (great from 2.5 year old till about 4.5 yrs old)
Differences

Sizing

Baby

Toddler

Preschool

Age range / Fit

From 3 months old till about 3.5 yrs old

From 1 year old till about 4 yrs old

From 2.5 year old till about 4.5 yrs old

Body Panel Height till the top of headrest:

14 inch

18 inch

21 inch

Body Panel Height till the shoulder straps:

11 inch

15 inch

19 inch

Body Panel Width:

13 inch

18 inch

21 inch

Desc:
This Chantilly White Raw Silk textile looks like a dream and it sure does make a stunning JumpSac Orbit Carrier. A simple and elegant white carrier is sought-after for weddings or any events that fits into the minimalism theme.
Or if you're a minimalist yourself,you could even use this as your go-to daily carrier. Although it is white in color, it does not attract stain. This really is an easy-to-care-for carrier. So, if you've always wanted a simple, minimalist, white colored carrier without the fuss, this it THE ONE.
Silk as we all know is a superior fiber; it is lightweight, moisture-wicking and supportive. It makes it suitable for wearing in both hot and cold weather. If you wondered whether it is sturdy or not, we have tested this Raw Silk Orbit with a heavy nearly 5 years old kid, and we're happy to report that there is plenty of support! :)
Apart from the supportive yarns, the secret ingredient is also in the supportive internal layer. And all intersections that bear weight have been reinforced very well as well.
Depending on the size bought, JumpSac Orbit is a practical carrier for 3 months old till about 4 years old (or more if you have a lean toddler).
JumpSac Orbit soft structured carrier is suitable for travelling and carrying heavy babies/toddlers for long hours. It is airport friendly too.
*Back carrying is recommended for heavier babies (with head control) and tall toddlers, for the feel of weightlessness.