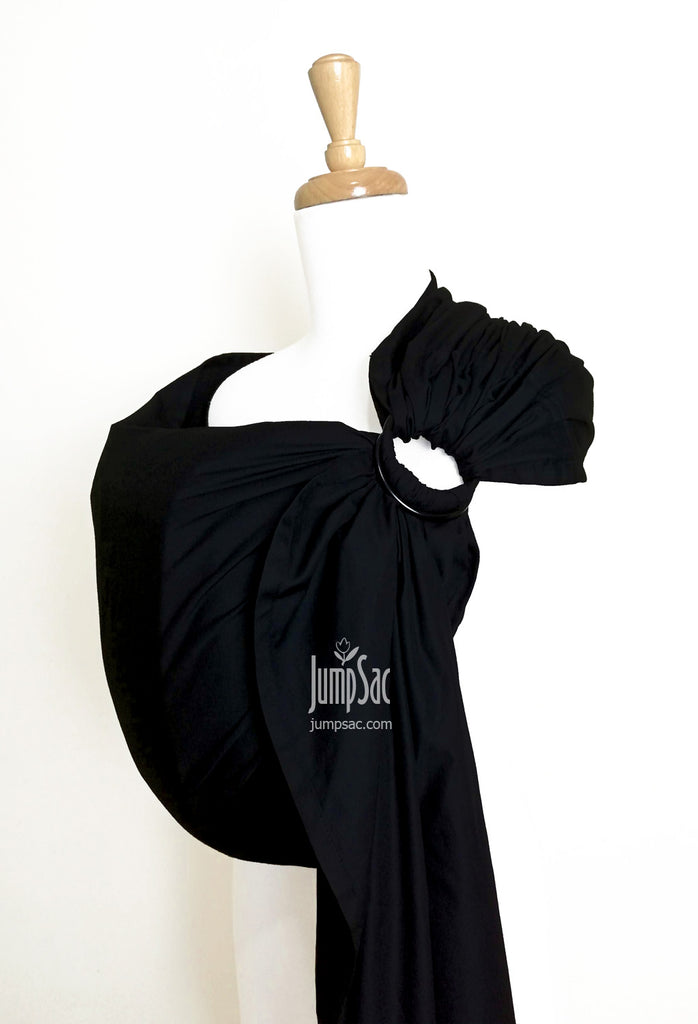 Black (Ring Sling)
*Available for immediate shipment. Order is only valid if payment is made within 2 hours after order is placed.*
Ring Color: Black.
Ring Size: Medium.
Layering: Single Layer.
Base fabric: Black Lightweight Cotton Twill 
Shoulder Style: Gathered
Pocket: No pocket, to keep it looking stylish an sleek.
Sling Length: XS:66"/ S:70"/ M:74"/ L:78".
Sling Width: 29".
Desc:
The "Black" color is beautifully saturated on this lightweight cotton twill fabric, that we picked especially for this Holiday Ring Sling Series. It is looking so handsome. And it shimmers! 

The fabric itself is lightweight and cooling, making it really easy for beginners to use it. It just glides and glides. And it still locks well at the rings. That's a huge plus! We're pretty sure even the seasoned babywearers would appreciate this feature. 
We recommend this for usage at home for those cuddles and quick ups. 
It's pretty comfy and supportive! 
With a little bit of practice, you can also learn to breastfeed in this ring sling.

Suitable for quick errand-runs too, shall you need to get in and out of the store in a jiffy. You'll breeze through your errand-day with your baby like a pro.
And since it packs quite small, it is also suitable as a backup sling that you can keep in your bag or in the stroller.
Did we mention that it is budget-friendly? :D 
Did we also mention that there's a matching Orbit Carrier (i.e. Holiday Orbit Series) in this same color? :D 

Suitable from newborn to toddlerhood. Max 14kg.
The color Black is also easy to match with your entire wardrobe.
A great everyday carrier.