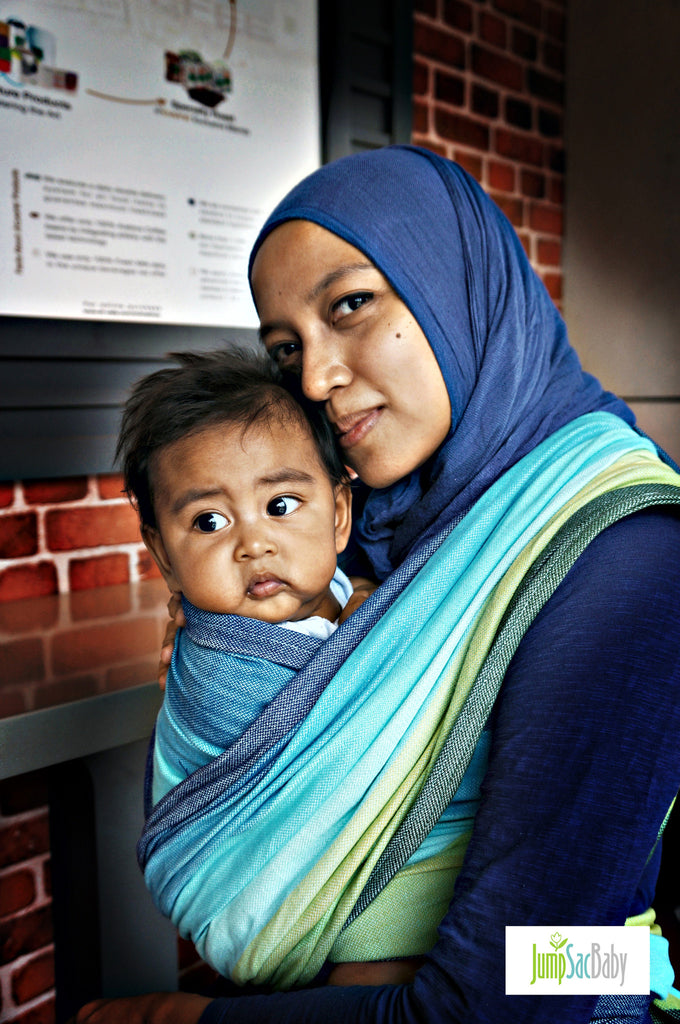 Vernal in White (Woven Wrap)
Warp (Colorway): Blue gradating to Green
Weft color: White
Material / Content: 100% cotton
Vernal is the sixth release of the JumpSac Pandora Woven Wrap. The colorway is picked from the JumpSac Woven Wrap COLORWAY Contest 2011.
We are now left with 2 weft colors to choose from: White and Light Grey weft.
(This listing is for Vernal in White weft only) 
White weft: gives a washed out effect on the colorway, toning down the colors.
Light Grey weft: gives an overall muted effect on the colorway.
Vernal has a lovely handle, strong, grippy, durable, easy to care for and comfortable.
It wraps true to its size.
Suitable from newborn till toddlerhood.
Vernal has better dye job and cotton yarns quality than the debut Pandora wrap, Night Berry. Same quality as the November Rainbow.
The wrap is soft right out of the box, will get softer after the first wash, and will get even softer with frequent usage.
Vernal exudes a refreshing look. The color is daddy-friendly too. Gorgeous color combo! Definitely suitable for occasions as well.