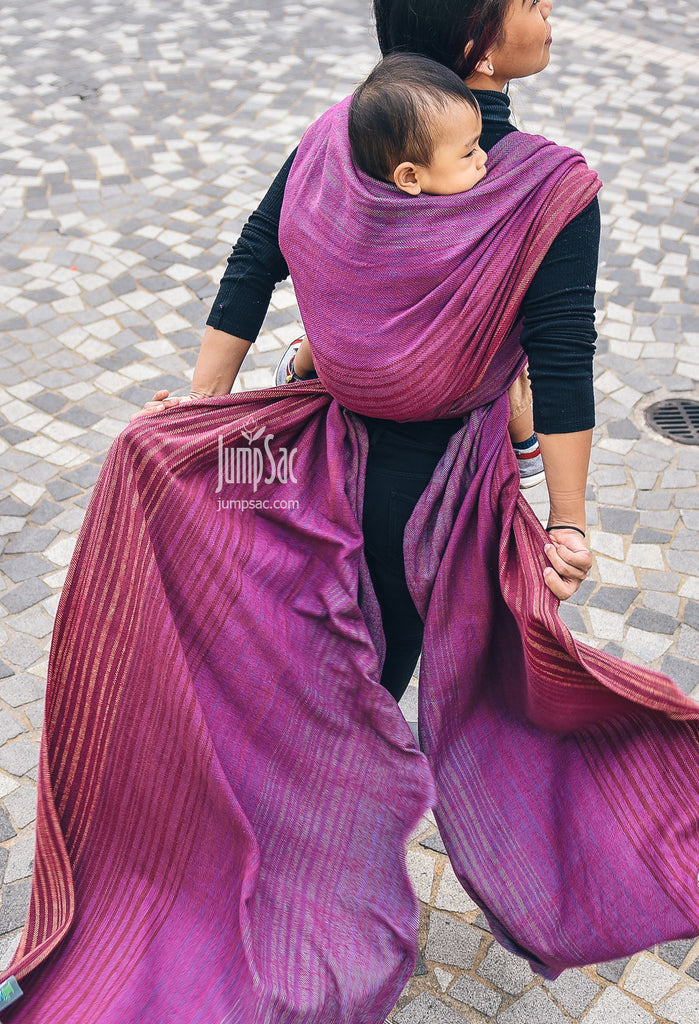 Solace Merlot (Woven Wrap)
RM189.00 MYR
RM631.00 MYR
*Allow 3-5 days before item can be shipped out. Order is only valid if payment is made within 2 hours after order is placed.*
Warp (Colorway): Solace
Weft color: Merlot (Deep Red)
Material / Content: 100% organic cotton

Grammage / Weight: 285 gsm (g/m2)
Weaving Technique: Handwoven (i.e. using handloom)
Weave type: Plain weave (using different yarn size/count for both the warp and weft)
Width: 29"
Solace is JumpSac debut Handwoven Wrap. It comes in 3 weft colors: Bosphorus (turquoise), Wisteria (lilac) and Merlot (deep red).

This listing is for Solace Merlot only.

Solace has a lovely handle, lightweight, strong, grippy, durable, easy to care for and comfortable.
It is recommended for users to wash this wrap prior to usage at least once, to fluff up and break in the loomstate wrap.
After washing and drying (under shade), the wrap would feel a lot lighter. Quite lightweight for a medium weight woven wrap.
Passes are easy with Solace. And due to it's grippiness, your wrap job would also stay put even after hours of wearing.
The difference in yarn size between the warp and weft lends a nice touch to an otherwise "usual" plain weave. We think you'd love it! :)
It wraps true to its size.
Suitable from newborn till toddlerhood.
The wrap is soft right out of the box, will get softer and lighter in weight after the first wash, and will get even softer with frequent usage.
Gorgeous color! Definitely suitable for occasions!