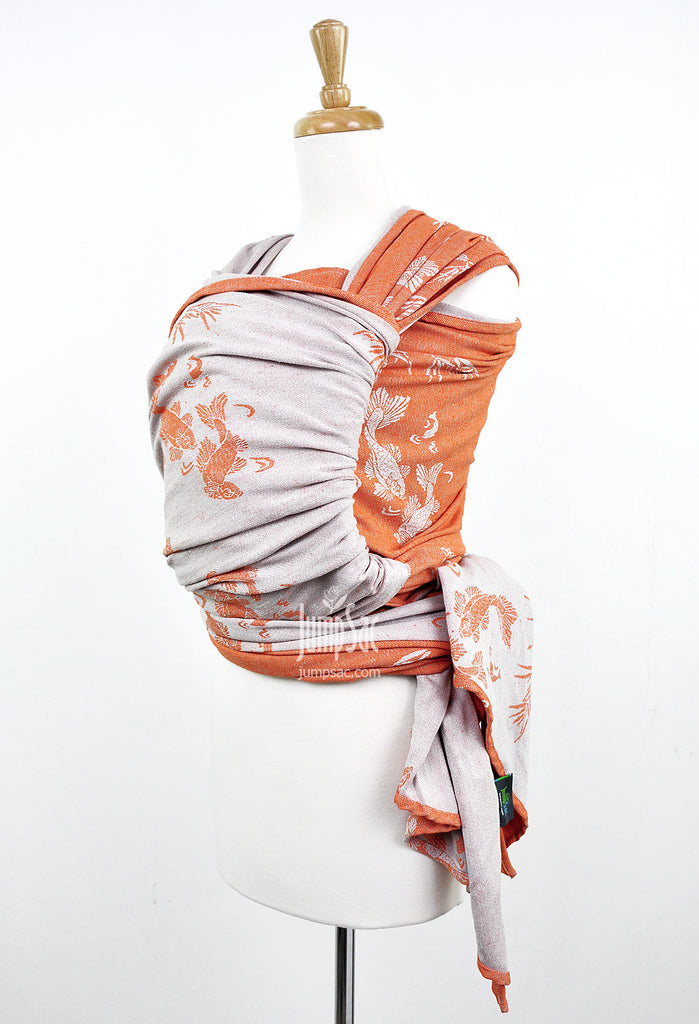 Sakana Koi in Muted Orange (Woven Wrap)
*Allow 3-5 days before item can be shipped out. Order is only valid if payment is made within 2 hours after order is placed.*
Colorway: Sakana Koi in Muted Orange 
Weft color: Muted Orange 
Warp color: Light Grey
Material / Content: 50% Organic Cotton / 50% Linen

Grammage / Weight: 275 gsm (g/m2)
Weaving Technique: Machine Woven
Weave type: Jacquard 
Wrap Width: 29"
Wrap Length:
Size 3 (3.2m)
Size 4 (3.7m)
Size 5 (4.2m)
Size 6 (4.6m)
Size 7 (5.2m)
Size 8 (5.7m)
Desc:
Sakana Koi is a JumpSac Jacquard Woven Wrap.
There are 3 weft colors to choose from: Autumn Purple, Patriot Blue and Muted Orange.
The pattern looks gorgeous on both sides of the woven wrap.
(This listing is for the Muted Orange weft) 
It has a beautiful Japanese Koi fish pattern in a dense weave, and has
a lovely handle. Sakana Koi is really supportive (because there's 50% linen content in it), grippy, durable, really easy to care for, comfortable and has just the right amount of cush and sturdiness. It holds a ruck really well. 

This Woven Wrap might feel a bit coarse if you've tried / already owned a JumpSac Woven Wrap that is made from 100% organic cotton, like the Damask Pink/Navy. This coarseness is due to the linen content in it. But it's important to mention that the linen yarns are the ones responsible for making this Woven Wrap really sturdy.

A little bit of info about linen:
Linen yarns (also called flax yarn) are spun from the fibers of the flax plant. Linen is laborious to manufacture, but the fiber is strong and very absorbent and garments made of linen are valued for their exceptional coolness and freshness in hot weather. Linen has been known since early antiquity and is thus the oldest textile fiber. 
Suitable from newborn till toddlerhood. Suitable for preschoolers too with 3 layer wrapping.
For a wrap with linen content, Sakana Koi is considered soft right out of the box, will get softer and lighter in weight after the first wash, and will get even softer with frequent usage.
Gorgeous color! Definitely suitable for occasions!