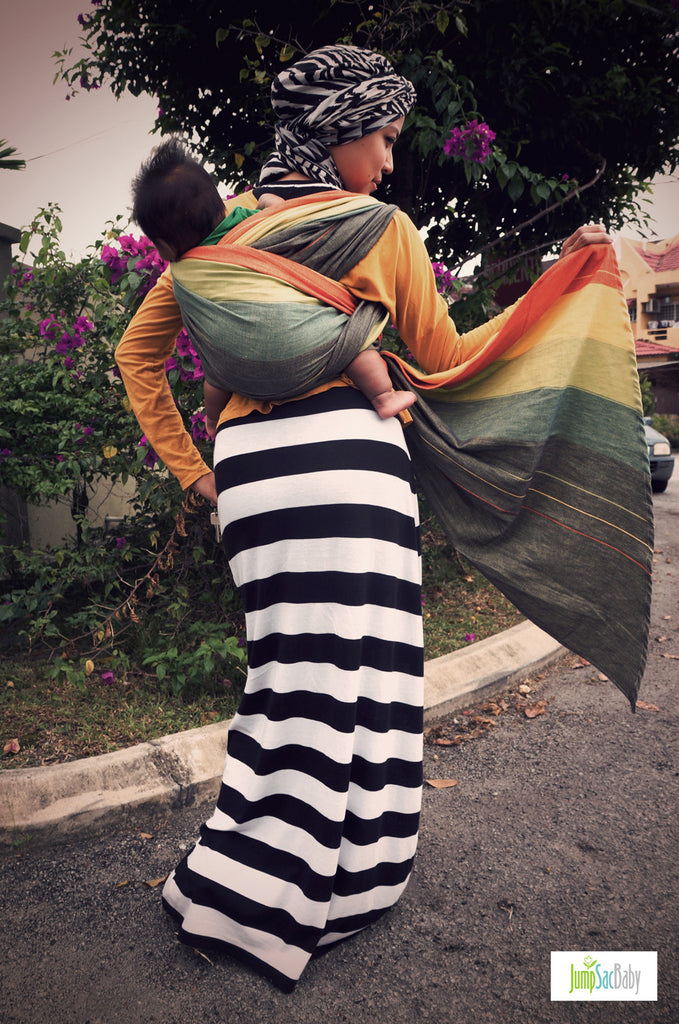 Reminisce in Pale Pink (Woven Wrap)
*Allow 3-5 days before item can be shipped out. Order is only valid if payment is made within 2 hours after order is placed.*
Warp (Colorway): Red / Yellow / Light Green / Steely Grey / Graphite combination
Weft color: Pale Pink
Material / Content: 100% cotton
Reminisce is the fifth release of the JumpSac Pandora Woven Wrap. The colorway is picked from the JumpSac Woven Wrap COLORWAY Con
test 2011.
We are now left with Reminisce in Pale Pink weft only.
(And this listing is for Reminisce in Pale Pink weft only) 

The Pale Pink weft gives a sweet/cheerful effect of the colorway.
Model is wearing the Yellow Weft (which is now sold out).
Please check out the last picture in this page for a true representation of Reminisce in Pale Pink weft.
Reminisce has a lovely handle, strong, grippy, durable, easy to care for and comfortable.
It wraps true to its size.
Suitable from newborn till toddlerhood.
Reminisce has better dye job and cotton yarns quality than the debut Pandora wrap, Night Berry. Same quality as the November Rainbow.
The wrap is soft right out of the box, will get softer after the first wash, and will get even softer with frequent usage.
Gorgeous color combo! Definitely suitable for occasions as well.